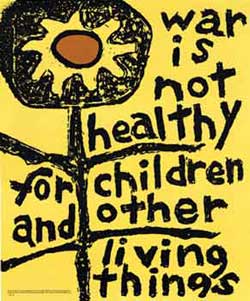 War Is Not Healthy, Lorraine Schneider, 1966, ®©Another Mother for Peace, Inc. Reproduced by permission 2003. Center for the Study of Politcal Graphics, Los Angeles.
War Is Not Healthy Poster
War is Not Healthy for Children and Other Living Things
This pithy poster, originally done by Lorraine Schneider, first appeared in 1966 in reaction to the Vietnam War. Its timeless message is as potent now as it was then. The poster is 22.5" wide x 26" tall and printed on quality paper.

PST-106 War is Not Healthy Poster……….$19.95